From Public Advocate: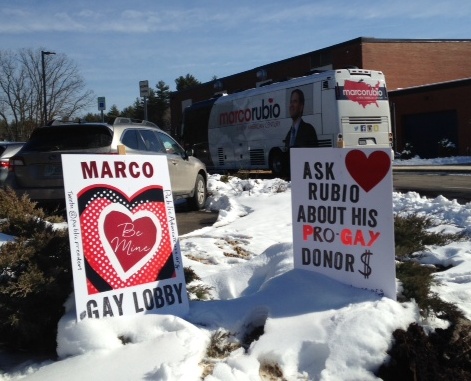 (Public Advocate Signs Causing A Stir At A Marco Rubio Event)
I want to wish you a very happy and special Valentine's Day.

Just last weekend, I welcomed the radical Homosexual Lobby's special Valentine -- Senator Marco Rubio -- to New Hampshire.

You see, for weeks Public Advocate has been exposing Rubio's ties to a billionaire pro-Homosexual Lobby donor and urging pro-Family Americans to encourage Rubio to cut ties with the donor.

But Rubio's refusal to return homosexual "marriage" activist and billionaire Paul Singer's massive financial contribution is just the tip of the iceberg.

It was reported just a few days ago that Rubio's deputy campaign manager, Rich Beeson, signed a writ of certiorari encouraging the U.S. Supreme Court to legalize homosexual "marriage."

Rubio's decision to hire a deputy campaign manager who directly helped usher in homosexual "marriage" concerns me.

Senator Marco Rubio could easily repudiate the radical Homosexual Lobby and go on the record for supporting Traditional Values by filling out and returning his Public Advocate presidential survey.

But he continues to ignore the calls from thousands of pro-Family Americans instead.

That's why I hope you chip in $10 or $25 to help Public Advocate mobilize thousands of pro-Family Americans to call on Rubio -- and ALL the presidential candidates -- to return their surveys.

You and I both saw the impact of our grassroots program in Iowa.

We exposed Hillary Clinton's betrayal of Traditional Values to thousands of pro-Family Americans.

We even pressured one presidential candidate into publicly supporting Real Marriage.

Within just a day of running our Facebook and Google ads exposing candidates for not filling out their surveys, Donald Trump came out swinging against homosexual "marriage."

Trump attacked the U.S. Supreme Court's decision to override the authority of the states on the issue of Real Marriage.

And he said that a Trump presidency would allow him to appoint judges who "think differently" than those that ruled against Real Marriage.

When pressed, he indicated that he would nominate judges who supported restoring Real Marriage laws in America.

And last fall, when Public Advocate launched our "Stop the Gender Insanity" program, presidential candidate and U.S. Senator Ted Cruz bluntly called transgenderism "lunacy."

These are not merely coincidences.

It's a direct result of your support and Public Advocate's tactics.

So please, help us keep the pro-Family pressure on these presidential candidates by chipping in $10 or $25 right away.

Thank you for all that you do!

For the Family,

HON. EUGENE DELGAUDIO
President, Public Advocate of the United States

P.S. I just got back from New Hampshire where I continued to expose presidential candidates for refusing to stand for Traditional Values.

Help me keep the pressure on until they fill out their Public Advocate surveys and continue fueling our grassroots campaign by chipping in $10 or $25 immediately.