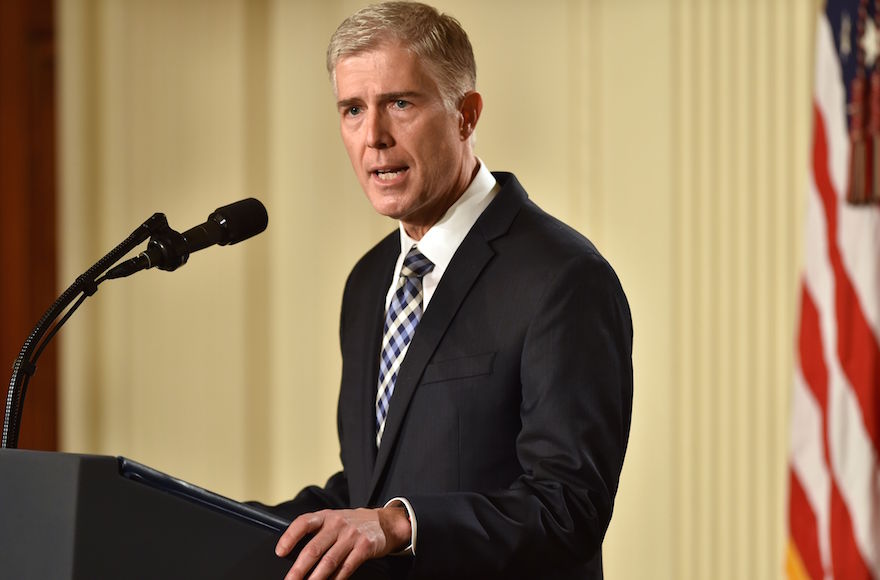 Neil Gorsuch
Judge Neil Gorsuch, President Donald Trump's nominee for the Supreme Court, hails from Colorado, and if he is ultimately confirmed by the Senate, he could end up having a significant role in deciding whether marijuana will remain legal in his state and others.

Gorsuch currently serves on the 10th Circuit Court of Appeals in Denver, and he has ruled on at least three weed-related cases in recent years. Legal experts and marijuana industry attorneys say it's hard to say how Gorsuch might rule when the high court takes its next pot case, and it might be impossible to know for sure unless he's quizzed about it during his confirmation hearings. In the meantime, however, his track record offers some clues.

While Gorsuch is a conservative who falls somewhere between Antonin Scalia and Clarence Thomas on the spectrum of Supreme Court ideology, Alex Kreit, director of the Center for Law & Social Justice at the Thomas Jefferson School of Law, said there aren't any red flags in his past that indicate he would be categorically opposed legal weed.

"There isn't anything in his record that suggests he is a hardline anti-marijuana, pro-mandatory minimum zealot in the mold of Jeff Sessions — at least not that I've seen," Kreit said. "And there are at least some cases that suggest he's willing to rule in favor of individual rights and against the government in some criminal justice cases."

Gorsuch's most notable marijuana decision came in December 2015 on a case that dealt with a tax dispute between a Colorado dispensary and the IRS. The dispensary owners wanted to use the Fifth Amendment's protection against self-incrimination to keep the nature of their business secret, which would have allowed them to significantly reduce their tax bill. Gorsuch joined the three-judge panel's ruling against them, but his opinion included language that suggested he might be sympathetic to their situation.

He cited the "mixed messages the federal government is sending these days about the distribution of marijuana," such as a 2013 memo from the Department of Justice that says federal authorities should not prosecute individuals who abide by state marijuana laws, even though weed remains illegal federally.

"So it is that today prosecutors will almost always overlook federal marijuana distribution crimes in Colorado but the tax man never will," Gorsuch wrote, adding that, "the government simultaneously urged the court to take seriously its claim that the petitioners are violating federal criminal law and to discount the possibility that it would enforce federal criminal law."

James Thorburn, the attorney for the dispensary owners, said that even though Gorsuch's ruling was unfavorable to his clients, the judge was fair and thorough. He noted that Gorsuch has "an impeccable reputation," and said he "asks the difficult questions, but he does it in such a way that it is very conducive to being able to argue a case effectively."

"I think that he would be open to a favorable ruling to the marijuana industry," Thorburn said. "That doesn't say he would actually rule in favor of the industry, but I think the door is not closed."

Gorsuch was also involved in a 2010 case where the 10th Circuit ruled that a couple accused of selling marijuana couldn't use the Religious Freedom Restoration Act to defend themselves because their "marijuana dealings were motivated by commercial or secular motives rather than sincere religious conviction."

In 2013, Gorsuch wrote the majority opinion in a case where the court ruled that it was "reasonable" for a police officer to use a taser on a suspect who fled in order to avoid being arrested for illegally growing marijuana. The suspect died from a heart condition, and his parents sued, claiming that the cop used excessive force. Gorsuch noted that "illegal processing and manufacturing of marijuana may not be inherently violent crimes but, outside the medical marijuana context, they were felonies under Colorado law at the time."

Hilary Bricken, an attorney with the Seattle-based Canna Law Group, seconded Thornburn's assessment, saying Gorsuch seems to be "a reasonable judge" who listens closely to the lawyers who appear in his courtroom. "I wouldn't say he's mainstream," she said, "but he's somebody you can argue with."

Referring to the tax case, Bricken said Gorsuch appears to think that marijuana policies ought to be determined by the letter of the law, not the whims of the president or the attorney general.

"He doesn't like federal overreach, especially executive overreach," Bricken said. "Reading between the lines, he's saying we're not going to change this, it's going to have to come through Congress."

The big question, then, is whether Gorsuch would side with states or the federal government in a dispute over legal weed. The Supreme Court has already affirmed that Congress has the power to outlaw marijuana under the Constitution's commerce clause, and that the Department of Justice can prosecute people who violate federal law, even when states have contradictory laws on the books. That means it will likely be up to Sessions, Trump's pick for attorney general, to determine how the new administration handles legal weed.

Kreit said it seems unlikely that the Supreme Court will revisit the issue of "preemption" — whether federal drug laws trump state rules — anytime soon. But if that happens, it would likely determine whether state-level marijuana legalization goes up in smoke.

"Preemption is by far most important constitutional question related to marijuana legalization right now," Kreit said. "If the Supreme Court were to rule the federal law trumps state legalization laws, that could conceivably wipe out every single state marijuana legalization law in the country — including medical marijuana — in a single opinion."
Source
There are telling signs that Gorsuch may be sympathetic to state's rights when it comes to the issue of marijuana. If a case was ever brought before him that he would be fair about it. That is going from this article. If he is a fair jurist we can't ask for anything more except for a pro-marijuana partisan but we don't have that in this case. I say we back him.
Contact your Senators
and let them know you believe Gorsuch will follow the Constitution and to confirm him as Supreme Court Justice.